Best Budget Hotel in Delhi- Hotel Uppal International
Are you amongst the ones who love to stay in a luxurious and reputed and budget hotel in Delhi hotel which is in proximity to the best attractions of Delhi, the Capital of India? If your answer to this question is yes, then here is an opportunity for you. You can now enjoy your stay in a 3 star hotel which offers the elegance and luxury at a very reasonable price. Hotel Uppal International proudly offers a clean and safe and also a child friendly environment to all. Fresh linen, 24*7 air conditioning, suitable luggage storage, Satellite TV, direct dialling telephone service, 24 hour reception, travel information, finest room with bed and breakfast and all other things which you expect from a wonderful hotel are available here. It is a 3 star luxury hotel located in center Delhi. It is the budget hotel in Delhi which offers the business class facilities to its customers at a very economical price.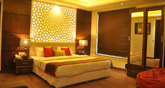 Finding the location of hotel Uppal International is not at all difficult as this budget hotel in Delhi is situated near to the Delhi Central Railway Station. Its distance from Connaught Metro Station and Connaught Place is less than a kilometre. Apart from the proximity to the heart of shopping centre of Delhi's, here is what this budget hotel in Delhi has for its customer's unforgettable staying experience:
1.In expensive Facilities: The beauty of budget hotels lies in inexpensive facilities. In Uppal International, you will find all the necessities which are not overly expensive like the ones provided by the 5 star or 7 star hotels.
2.Spacious Rooms: The facilities available inside the budget hotel with nicely furnished and spacious rooms of hotel have already been mentioned above. The rooms are equipped with every ultra modern facility which customers look forward too during their stay in a hotel. Bed, breakfast, internet connection, colour TV, direct dialing telephone line and many other facilities are present here.
3.Personalized Service: In this budget hotel in Delhi, you will get a personalized service. The hotel staff is very prompt in serving their customers and while serving them the staff members keep the quality intact. The personalized service by hotel staff even exceeds the expectations of its customers. Even the managers of the hotel remain in direct contact with the customers to ensure transparency and high quality service to them.
4.Home like Convenience:During your stay in Delhi's budget hotel, you will feel comfortable as you will get a home like convenience. You will get all necessities which you have at your home. It is an accommodation which redefines luxury in hospitality. Friendly atmosphere makes this hotel a perfect staying solution for individuals, couples and also a family.
This budget hotel in Delhi is certainly an all season accommodation for all. It provide all the above and many more facilities which does not weigh heavy on the pockets of customers. The ambience, location and services of Uppal International proves all those people wrong who think that good things always comes at a high price. If you want value at low money then it is certainly a place to stay in.